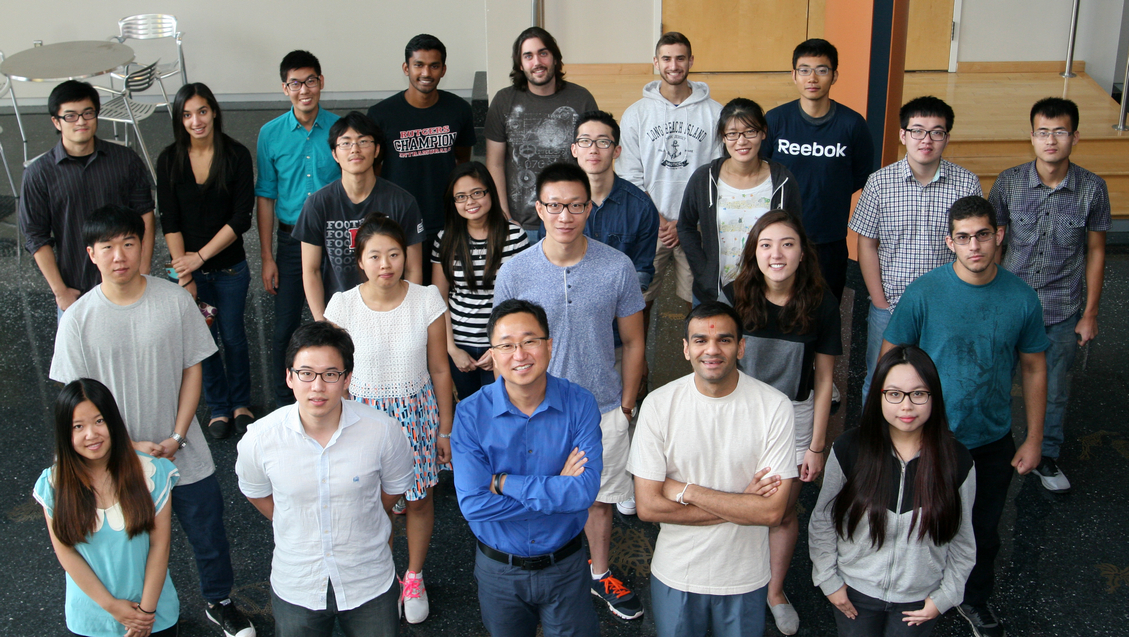 Recent News
Yixiao has won Fall 2015 Duff Travel Award!
Jeffrey and Marcus have won 2015 Undergraduate Research Fellowships!
Kholud has won 2015 McCoy Family Fellowship for Woman in Chemistry and Business!
Perry won 1st Place Poster Presentation at the Rutgers NIH Biotechnology Training Program Annual Symposium!
Dean's drawing was published for April 2015 Chemical Reviews cover!
Shreyas won 1st Place Graduate Oral Presentation @ Bell Labs Nobel Prize Celebration (April 2015)!
Joan won Chemical Resources Award for distinction in research!
Shreyas has won Fall 2014 Reid Award!
Sahishnu has won Fall 2014 Van Dyke Award!
Shreyas's poster "Nanoengineered Scaffolds to selectively guide Neural Stem Cell Differentiation" won poster award at 2014 Signal Transduction by Engineered Extracellular Matrices Gordon Research Conference!
Shreyas and Ani's Manuscript Accepted in

Accounts of Chemical Research

: "Nanotechnology-based Approaches for Guiding Neural Regeneration",

Accounts of Chemical Research

, 2015

Perry's Manuscript Accepted in

Biomaterials

: "Stem cell-based gene therapy activated using magnetic hyperthermia to enhance the treatment of cancer",

Biomaterials

, 2015

Shreyas's Collaboration Manuscript with Prof. Kalodimos Accepted in

Nature Chemical Biology

: "Cyclophilin A Promotes Cell Migration via the Abl-Crk Signaling Pathway",

Nature Chemical Biology

, 2015

Shreyas and Nick's Manuscript Accepted in

Nanoscale

: "Hybrid Upconversion Nanomaterials for Optogenetic Neuronal Control",

Nanoscale

, 2015

Tae-Hyung and Cheol-Heon's Manuscript (collaboration with Prof. Choi) Accepted in

Advanced Materials

: "Large-scale Nanoelectrode Arrays to Monitor the Dopaminergic Differentiation of Human Neural Stem Cells",

Advanced Materials

, 2015

Sahishnu and Dean's Manuscript Published in

Angew. Chem. Int. Ed.

: "Induction of Stem-Cell-Derived Functional Neurons by NanoScript-Based Gene Repression",

Angew. Chem. Int. Ed.

, 2015

Sahishnu and Perry's Manuscript Published in

ACS Nano

: "Inducing Stem Cell Myogenesis using NanoScript",

ACS Nano

, 2015

Jinping, Birju, Yixio, and Letao's Manuscript Accepted in

ACS Nano

: "Real-Time Monitoring of ATP-Responsive Drug Release using Mesoporous-Silica-Coated Multicolor Upconversion Nanoparticles",

ACS Nano

, 2015

Tae-Hyung, Shreyas, and Letao's Manuscript Accepted in

ACS Nano

: "Controlling Differentiation of Adipose-Derived Stem Cells Using Combinatorial Graphene Hybrid-Pattern Arrays",

ACS Nano

, 2015

Sahishnu, Top, and Perry's Manuscript Accepted in

JACS

: "Integrating Epigenetic Modulators into NanoScript for Enhanced Chondrogenesis of Stem Cells",

JACS

, 2015

Perry and Shreyas's Review Accepted in

Chemical Reviews

: "Design, Synthesis, and Characterization of Graphene-Nanoparticle Hybrid Materials for Bio-applications",

Chemical Reviews

, 2015

Sahishnu's Manuscript Accepted in

WIREs Nanomedicine & Nanobiotechnology

: "Probing Stem Cell Behavior using Nanoparticle-based Approaches",

WIREs Nanomedicine & Nanobiotechnology

, 2015

Perry's Manuscript Accepted in

Advanced Healthcare Materials

: "Engineering Stem Cells for Biomedical Applications",

Advanced Healthcare Materials

, 2015