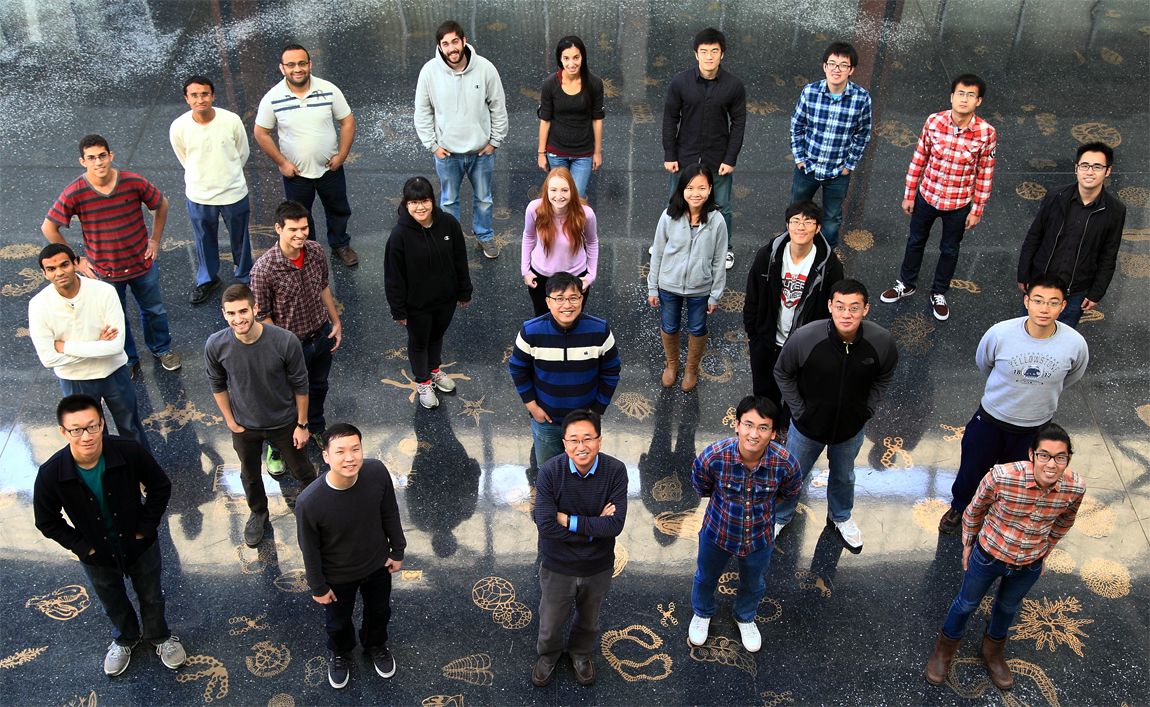 Recent News
Dean's drawing was chosen for April 2015 Chemical Reviews cover!
Shreyas has won Fall 2014 Reid Award!
Sahishnu has won Fall 2014 Van Dyke Award!
Shreyas's poster "Nanoengineered Scaffolds to selectively guide Neural Stem Cell Differentiation" won poster award at 2014 Signal Transduction by Engineered Extracellular Matrices Gordon Research Conference!
Birju successfully defends her Ph.D thesis. Congrats Dr. Shah!
Yixiao, Nick, Dean, and Letao successfully advance to Ph.D candidacies!
Prof. Lee and Yixiao completed Rutgers Unite Half Marathon 2014!
Shreyas's poster "Nanotechnology-based Approaches to Control Stem Cell Neuro-Differentiation" has won Theodore E. Madey Award for Best Student Poster Presentation at LSM symposium!
Sahishnu, Top, and Perry's Manuscript Accepted in

JACS

: "Integrating Epigenetic Modulators into NanoScript for Enhanced Chondrogenesis of Stem Cells",

JACS

, 2015

Perry and Shreyas's Review Accepted in

Chemical Reviews

: "Design, Synthesis, and Characterization of Graphene-Nanoparticle Hybrid Materials for Bio-applications",

Chemical Reviews

, 2015

Sahishnu's Manuscript Accepted in

WIREs Nanomedicine & Nanobiotechnology

: "Probing Stem Cell Behavior using Nanoparticle-based Approaches",

WIREs Nanomedicine & Nanobiotechnology

, 2015

Perry's Manuscript Accepted in

Advanced Healthcare Materials

: "Engineering Stem Cells for Biomedical Applications",

Advanced Healthcare Materials

, 2015

Jinping, Yixiao, and Nick's Manuscript Accepted in

Angew. Chem. Int. Ed.

: "An Upconversion Nanoparticle with Orthogonal Emissions using Dual NIR Excitations for Controlled Two-way Photoswitching",

Angew. Chem. Int. Ed.

, 2014

Shreyas and Pijus's Manuscript Published in

Journal of Materials Chemistry B

: "Photo-triggerable Hydrogel – Nanoparticle Hybrid Scaffolds for Remotely Controlled Drug Delivery",

Journal of Materials Chemistry B

, 2014

Sahishnu and Perry's Manuscript Published in

ACS Nano

: "NanoScript: A Nanoparticle-Based Artificial Transcription Factor for Effective Gene Regulation",

ACS Nano

, 2014

Birju and Nick's Manuscript Published in

ACS Nano

: "Core-Shell Nanoparticle-Based Peptide Therapeutics and Combined Hyperthermia for Enhanced Cancer Cell Apoptosis",

ACS Nano

, 2014

Tae-Hyungs's Manuscript (collaboration with Prof. Choi) Accepted in

ACS Applied Materials & Interfaces

: "Electrically-Controlled Delivery of Cargo into Single Human Neural Stem Cell",

ACS Applied Materials & Interfaces

, 2014

Perry and Birju's Manuscript Published in

Small

: "Combined magnetic nanoparticle-based microRNA and hyperthermia therapy to enhance apoptosis in brain cancer cells",

Small

, 2014

Shreyas' Manuscript Published in

Advanced Materials

: "Guiding Stem Cell Differentiation into Oligodendrocytes Using Graphene-Nanofiber Hybrid Scaffolds",

Advanced Materials

, 2014