Development of a Nanoparticle-based Artificial Transcription Factor (NanoScript) for Effective Gene Regulation in Cellular Reprogramming
Transcription factors (TFs), which are proteins regulating cell function and behavior, are routinely delivered into stem cells or somatic cells using conventional methods such as viruses or plasmids, which pose several safety concerns, including random DNA integration and formation of cancerous teratomas. Hence, stem cell-based therapies cannot be effectively translated into the clinic to treat patients. As an alternative approach to regulate gene expression for stem cell differentiation, recent efforts have focused on developing a class of small molecules called synthetic transcription factors (STFs), which are small molecules that can mimic the function of TFs. Even though STFs have been demonstrated to activate genes in a non-viral manner, translating them for stem cell differentiation or clinical application has proven difficult due to poor membrane permeability, propensity for intracellular degradation, and inadequate nuclear targeting.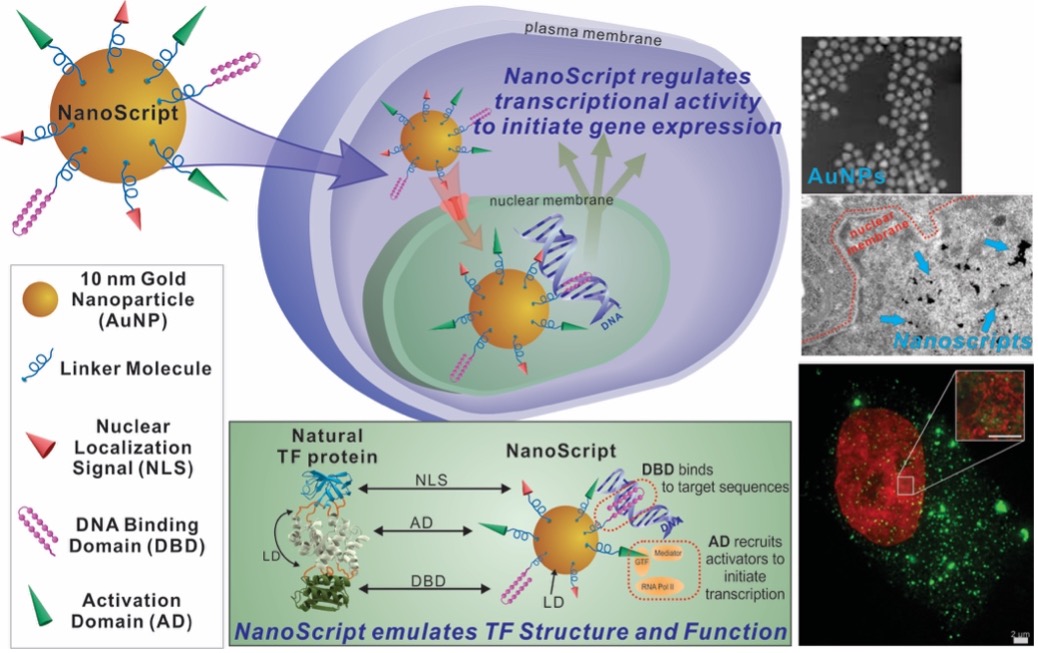 Key Publications from our group:
Patel, S.; Jung, D.; Yin, P. T.; Carlton, P.; Yamamoto, M.; Bando, T.; Sugiyama, H.; Lee, K.-B.†, NanoScript: A Nanoparticle-Based Artificial Transcription Factor for Effective Gene Regulation. ACS Nano 2014, 8 (9), 8959-8967.
Patel, S.; Chueng, S. T. D.; Yin, P. T.; Dardir, K.; Song, Z.; Pasquale, N.; Kwan, K.; Sugiyama, H.; Lee, K. B.†

, Induction of Stem‐Cell‐Derived Functional Neurons by NanoScript‐Based Gene Repression.

Angewandte Chemie (International ed.)

2015,

54

(41), 11983-11988.

Patel, S.; Pongkulapa, T.; Yin, P. T.; Pandian, G. N.; Rathnam, C.; Bando, T.; Vaijayanthi, T.; Sugiyama, H.; Lee, K.-B.†, Integrating Epigenetic Modulators into NanoScript for Enhanced Chondrogenesis of Stem Cells.

Journal of the American Chemical Society

2015,

137

(14), 4598-4601.

Patel, S.; Yin, P. T.; Sugiyama, H.; Lee, K.-B.†, Inducing Stem Cell Myogenesis Using NanoScript.

ACS Nano

2015,

9

(7), 6909-6917.