Synthesizing and Developing a New Generation of Multifunctional Nanomaterials as a Toolkit to Control Cancer and Stem Cells Fate
One of the most critical challenges that face molecular cell biology is to dissect the spatial-temporal interactions of biomolecules (and/or soluble cues) from the cellular microenvironments. To do this, we have developed innovative multifunctional/hybrid nanomaterial-based drug/gene delivery, molecular imaging techniques, and combined cancer/stem cell-based therapies. Our recently developed nanomaterials [See Below], such as magnetic core-shell nanoparticles (MCNP), graphene hybrid nanomaterials, and upconversion nanoparticles (UCNPs), can potentially circumvent some of the limitations of conventional drug/gene and molecular imaging methods due to their unique physicochemical properties. Towards this goal, one of the critical questions for the bio-application of nanoparticles is how to engineer the interface between these hybrid inorganic nanomaterials and natural bio-components, such as cells and proteins. In our projects, we have addressed these issues by developing synthesis and labeling methods for different multifunctional nanoparticles.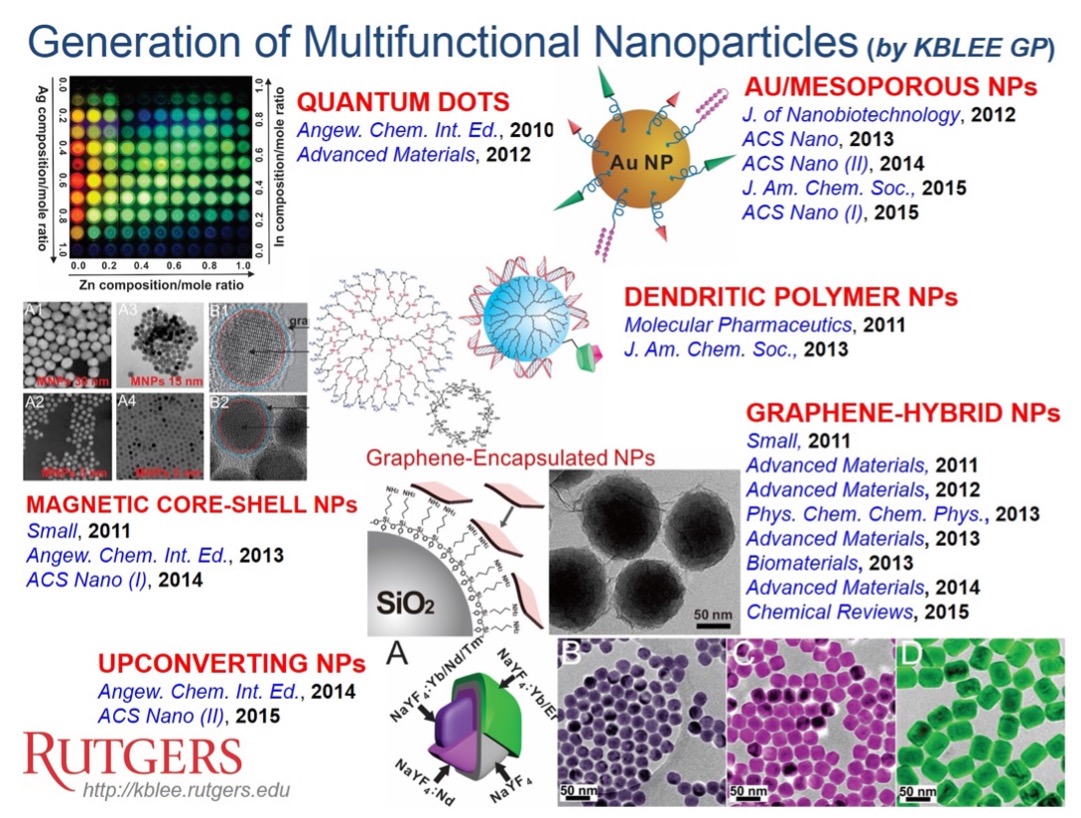 Key Publications from our group:
Lai, J.; Shah, B. P.; Zhang, Y.; Yang, L.; Lee, K.-B.†, Real-Time Monitoring of ATP-Responsive Drug Release Using Mesoporous-Silica-Coated Multicolor Upconversion Nanoparticles.

ACS Nano

2015,

9

(5), 5234-5245.

Shah, B. P.; Pasquale, N.; De, G.; Tan, T.; Ma, J.; Lee, K.-B.†, Core–Shell Nanoparticle-Based Peptide Therapeutics and Combined Hyperthermia for Enhanced Cancer Cell Apoptosis.

ACS Nano

2014,

8

(9), 9379-9387.

Shah, S.; Solanki, A.; Sasmal, P. K.; Lee, K.-B.†, Single Vehicular Delivery of siRNA and Small Molecules to Control Stem Cell Differentiation.

Journal of the American Chemical Society

2013,

135

(42), 15682-15685.

Shah, S.; Yin, P. T.; Uehara, T. M.; Chueng, S.-T. D.; Yang, L.; Lee, K.-B.†, Guiding Stem Cell Differentiation into Oligodendrocytes Using Graphene-Nanofiber Hybrid Scaffolds.

Advanced Materials

2014,

26

(22), 3673-3680.